ZoningCheck is making zoning data more open, understandable and executable so that organizations and small business owners alike can be able to learn what works and where in the cities they want to invest in.
Continue reading
Detroit Ledger is creating a comprehensive database of grants made for and by organizations in the Detroit area.
Continue reading
596 Acres has been running a pilot project that helps neighbors see opportunities in the fenced vacant lots of New York City's most historically disadvantaged neighborhoods since August, 2011.
Continue reading
The Open State Foundation has made major break through in unlocking The Netherlands' financial data and making it open and reusable. Now they have an Open Culture Data API with 694,741 records.
Continue reading
Gasbie is making publicly available financial information more accessible to the general public in order to increase transparency and accountability in local municipal finance and inform the public about how public dollars are spent.
Continue reading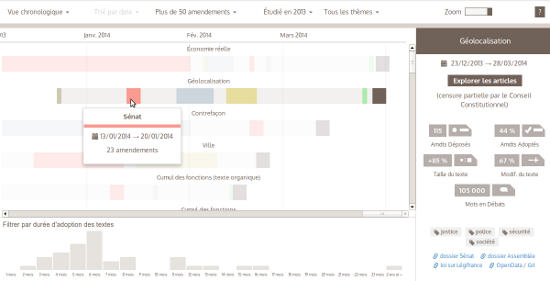 Using GitLaw, you can take open data and visualize the French parliamentary process.
Continue reading
There is a growing need for rich, accurate and timely information on existing organizations, projects, tools, stories and experts in the open data and transparency community.
Continue reading
Several people came together at TransparencyCamp to "Draw an API." Their interpretation of open data was meant to unpack the concept of open data and how non-technologists perceive it.
Continue reading
The Ballot Path website is about leveling the playing field so we all have the same, easily accessible knowledge about how to participate as candidates running for public office.
Continue reading
On Board is a tool by Michigan Suburbs Alliance that provides local officials with a secure database where they can access and manage information about boards and commissions. Simultaneously, it helps residents find information about these bodies and get involved.
Continue reading